Garage Door Safety Sensor Eyes
During a home inspection, a common safety issue we see often deals with the location of the photo safety eyes located on the bottom garage door rails.  We'll get to that in a minute. First, you can check to make sure these "eyes" are working properly by having someone close your garage door from the wall control or remote and then having someone else wave their hand or foot through the beam that passes from one photo eye beam to the other.  These photo eyes should be located on the garage door rails and should be on opposing sides of each garage door rail.  Every garage door should have these eyes on the rails for safety reasons.
SAFETY – Please be careful to make sure you aren't standing directly under the garage door when testing to see if the photo eyes are working.  If they are not working, you don't ever want to be standing under the garage door when it is lowering.  Garage doors are extremely heavy and can cause serious injury if they hit you when they are being lowered by the garage door opener.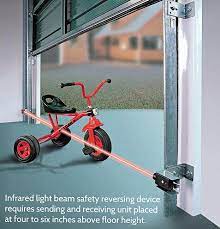 BEAM – When an object passes directly through the path of the beam while the garage door is lowering, the garage door should immediately stop and begin to go back up to its upright position.  If
the garage door does not retreat to the upright position when something breaks the path of the beam, you might need to have a new photo sensor eye installed by a garage door repair expert.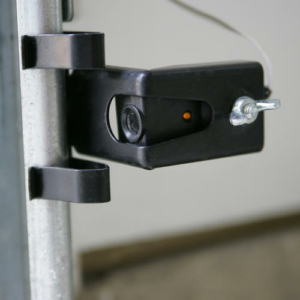 LOCATION – Now, the location of the photo eyes.  I always bring a tape measure during an inspection to ensure the photo eyes have been installed within 6 inches of the garage floor.  The purpose for this location is to make sure a small infant or animal that is lying on the garage floor when the garage door closes will break the beam of the safety eyes and cause the garage door to return to its upright position.  This will prevent anyone or anything from becoming entrapped by the garage door causing serious injury.  Often times, as I inspect homes, I see the photo safety eyes located between 7-9 inches off the ground on the garage rails.  This doesn't meet current requirements and the safety eyes will need to be readjusted and located within 6 inches off the garage floor.
https://www.oxhomeinspections.com/wp-content/uploads/sites/64/2021/05/image001-1.jpg
229
220
Jason Lindsay
https://d39oyu4lp7snwz.cloudfront.net/wp-content/uploads/sites/64/2021/01/16180941/pngox.png
Jason Lindsay
2021-05-12 15:45:39
2021-05-24 15:53:55
Garage Door Safety Sensor Eyes